The Greek philosopher, Theophrastos, named the gemstone after the ancient Sicilian river, Achates, where he found the stone on the banks of the river. Civilizations prized this gemstone highly since its discovery, and produced Agate rings, vases, and amulets from about a thousand years ago.
In addition to its beauty, the mineral held a special significance as a protection and healing stone. Still today, the Agate is popular for these ancient healing properties. Further discoveries of Agate deposits worldwide have brought a wide variety of Agates on the market.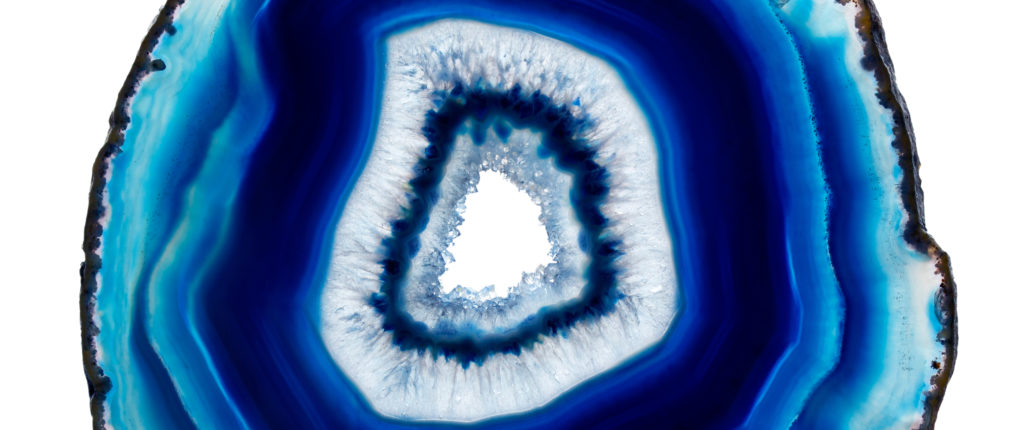 Agate colors range from an elegant white to a splendid blue or green, to a warm orange-brown, alternatively, the gems can be translucent or completely transparent. Particularly characteristic of the Agate is a process called rhythmic crystallization, which results in a very fine layers of color, resembling the woodgrain of a tree.
---
Fact sheet
Theophrastos of Eresos, a Greek natural scientist and philosopher, named the Agate stone after its place of discovery – a river in Sicily, which at that time bore the name Αχάτης (Achatis), called Drillo, Canitello or Carabi today.
Agate is a variety of chalcedony, a microcrystalline variety of quartz. It belongs to the mineral class of oxides, to the quartz group and to the trigonal crystal system.
Agate is best accentuated by the Cabochon cut, which is an oval or round, unfaceted cut, though the oblong baguette cut is also common. This gem has a Mohs hardness of 7 and a density of 2.6 to 2.8. It can be transparent or opaque.
The Agate is a comparatively inexpensive gemstone. Rough stones are available for a few dollars. Sophisticated processing can render the value higher. It is rather the processing that raises the price and not the rough stone itself.
The overall value of gemstones always depends on purity, color, cut, weight and carat weight (ct). Learn more about the quality features of gemstones.
The Agate governs the zodiac signs Taurus, Capricorn, and Scorpio. According to tradition, the Yellow Agate is also counted as a separate zodiac stone, representing Pisces. Agate also represents the month of September.
This healing stone is said to help Taureans realize their goals and give Capricorns confidence and security. As a compensation stone, it lends help to Scorpios through difficult times and increases Pisces' self-confidence.
Gemstones have been assigned to a certain month for several centuries and are said to have special properties. Which gemstone suits your month? Learn more in our guidebook "Birthstones".
---