Why is Amethyst purple?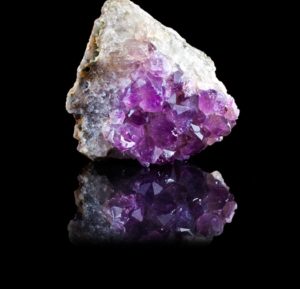 The colors of Amethyst range from very light pink or light purple, to dark purple, but a single gemstone may also have various shades and tones. Why this color range?
Put simply, the color comes about because of irregularities in the crystal lattice of the gem. Consequently, the color can change when heated, which means you can produce yellow, green and brown Amethysts.
The violet color is due to iron traces. However, it can also be caused by natural radiation. Some pieces are heat-treated to intensify the color or to convert it into Citrine. Amethyst turns green after heat treatment, resulting in Prasiolite, green Quartz, Vermarine or green Amethyst.
Colors and varieties
Colors according to origin:
The color of the Amethyst often varies according to its origin, or place of discovery, for example, deep purple stones come from Uruguay or Arizona.
The Siberian Amethyst has an intense dark purple color. This variety has a red, or blue tint depending on the type of light it is exposed to. However, this Russian deposit is now exhausted, making Siberian Amethysts very valuable.
Beware:
If you would like to purchase a Siberian Amethyst, you should definitely pay attention to an independent certificate as some traders incorrectly advertise dark purple pieces as Siberian Amethyst in order to increase the price.
Another popular variety is the African Amethyst, which is usually darker in color than the South American gemstone, however, exercise caution when buying, as a dark color is not necessarily an African stone.
Sometimes the color distribution of the Amethyst is uneven, which is usually a considerable factor when grinding the stone, to achieve the best possible result. Furthermore, some specimens fade slightly with prolonged exposure to light.