Carmeltazite / Carmel Sapphire
Carmeltazite, also called Carmel Sapphire, was recognized as a new mineral by the IMA (International Mineralogical Association) on January 7th, 2019.
After they announced their discovery, many headlines appeared in the news, especially about its extraterrestrial origin. There were even rumors that Carmel Sapphire is harder than Diamond. But are those reports true?
A special new gem
This gem stands apart from other gem discoveries, having made headlines. There are approximately 5,500 recognized minerals in the world and about 100 new discoveries each year, though most of them are too small or too rare to be of value.
Carmel Sapphire – name and place of discovery
Shefa Yamim, the gemstone mining exploration company, discovered Carmeltazite in the Carmel Mountains in northern Israel. The stone gets its name from this place of discovery, and an acronym of the main elements it contains: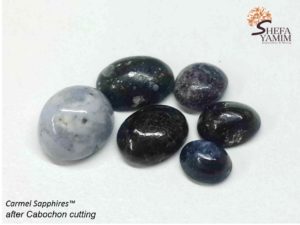 Titanium
Aluminium
Zirconium
You could only find Carmel Sapphire in the form of microscopically small black crystals (about 80 μm in size) enclosed in corundum, until its full discovery in Israel.
Carmeltazite properties – an extraterrestrial gemstone?
Carmeltazite is a zirconium aluminum oxide that contains traces of scandium, calcium and magnesium in its crystal lattice. Curiously, its chemical formula is similar to that of Allendeite (scandium zirconium oxide). 
Allendeite is an extremely rare gemstone, so far only found in meteorites. Allendeite, like Carmeltazite, was also recently discovered in 2007 in the 'Allende-meteorite', which fell to Earth in 1969 in Chihuahua, Mexico. The headlines spoke of an extraterrestrial origin, however this is not true.
Density – Is Carmeltazite harder than Diamonds?
The theoretical density of the Carmel Sapphire, based on its crystal structure, is 2.38 oz/in³. This means Carmeltazite has a higher density than Diamond (2.034 oz/in³). However, this does not mean that it is also harder (Gold has a density of 11.16 oz/in³ and the densest material naturally found on Earth is Osmium, with a density of 13.06 oz/in³).
Carmel Sapphire may exceed the value of Diamonds in the future, mainly due to its rarity.
---
Sources