Quality
Agate's value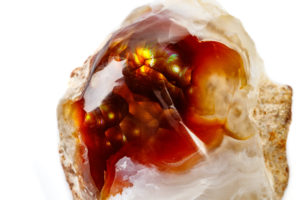 Agate in its raw form is a low-cost gemstone. The value of Agate jewelry is defined by the processing, rather than the actual price, of the material.
Very large stones, with fine and particularly pronounced graining in their color, are also valuable. The value of gemstones always depends on various quality features and especially the so-called 4 C's. The value and price of Agate depend on these criteria:
Color
As a rule, gemstones with intense, naturally strong colors always have a comparatively higher value. So too with Agate – color-intense, naturally mined stones are particularly valuable. Since the green and blue agate stones are clearly rarer, these are also more expensive than red and yellow types.
Clarity
Agates are usually either transparent or opaque, though mostly translucent. The fewer fractures and inclusions the stone has, the more valuable it is.
There are exceptions, however, in the case of Moss Agate or Tree Agate, the inclusions are particularly valuable. The beautiful, natural grains are characteristic features of this variety of this rock.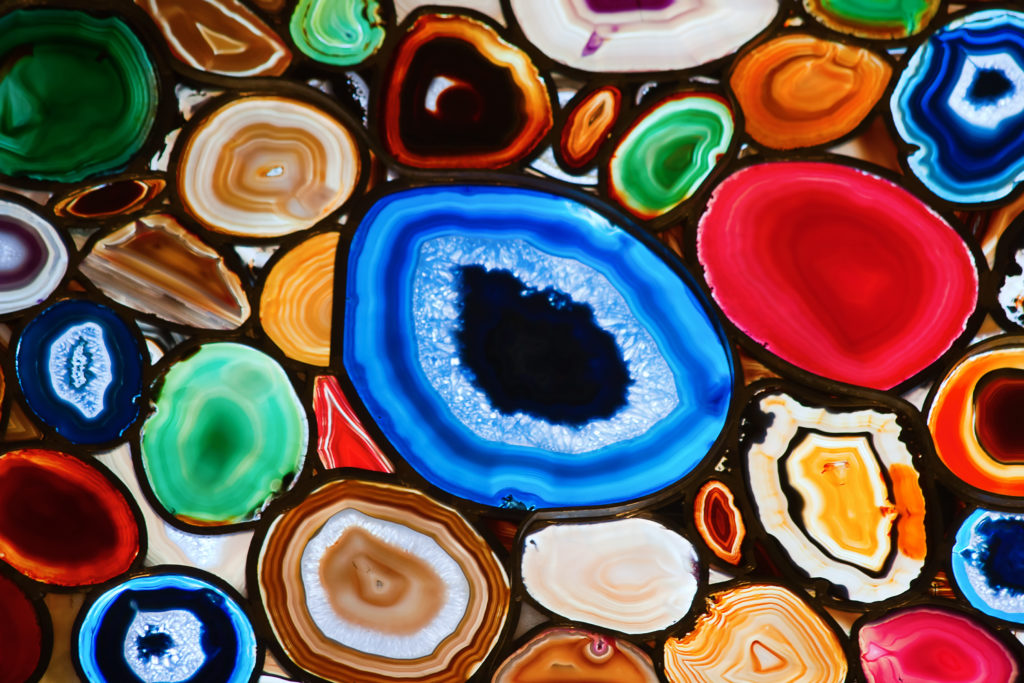 Agate's healing properties
Healing with Agate
The Agate, a healing gem since antiquity, used to heal the effects of spider and snake poisoning. Today, in its many varieties, the gem is still in demand for various therapeutic functions.
This healing stone works slowly but steadily. In Esoterism this effect is owing to the low vibration and gentle frequencies of the stone. Agates radiate a discreet power, which gives stability and harmony to the mind.
Furthermore, this gem balances Yin and Yang thus helping the wearer withstand difficulties.
The Cut
A well-executed and precise Cabochon cut emphasizes the grain and minimizes the visibility of the inclusions, revealing the gem's beauty optimally.
The natural grain of each individual piece must always be taken into account to highlight the stripes and patterns particularly well. Cutting requires expertise, tact, creativity, and patience. The cut is the major determining quality feature due to the skill involved in the craftsmanship.
Since each stone has its unique grain, requiring an authentic cut, mass production is not possible or advisable. The processing of high-quality cut Agate involves intricate and expert handiwork.
Carat – (ct.)
As with all gemstones, the price of Agate depends on its size and weight. The weight of gemstones is always given in carats (ct.), where 1 carat corresponds to 0.007 ounces.
Agates, unlike some other gemstones, are available in all possible sizes. You can find both tiny agate slices and ones the size of a tabletop.
Price per carat
Due to the above factors, the average price of Agate is hard to estimate. Price also varies by the variety of Agate.
Here is a rough idea of how much this stone costs:
The approximate price is between 0.02 $ and 5.5 $ per carat.
An unprocessed rough Agate can cost a few cents per carat.
A polished stone (or geode) can fetch 1.1 $ per carat.
Jewelry worked in Agate, depending on processing and complementary materials, is clearly more expensive.
---
Giant Agate
The largest Agate
The largest and heaviest Agate found in China in 2009 weighs 134,680.8 pounds.
This huge gemstone is 8.9 feet high, 16.7 feet wide and 15.4 feet deep, with a volume of 799 cubic feet.
It gained an entry in the Guinness Book of Records.
14 years of marriage
Anniversary stone
The 14th wedding anniversary is traditionally an Ivory, or Agate wedding anniversary – a geode or jewelry with this gemstone is usually a commemorative gift.
Agate is a symbolic gift for a 14-year marriage, as it is truly something precious and rare.