The gem that tarnishes colorfully
Chalcopyrite starts out brass-colored to golden yellow, however, with weathering it runs in full spectrum. Another name for the mineral is stained copper, and other synonyms for the gem are Copper Pyrite or yellow gravel. It consists of copper, iron and sulphur and belongs to the mineral class of sulfides and sulfosalts.
Chalcopyrite is primarily a raw material: it is an important copper ore, which they use in devices like solar cells. With a Mohs hardness of 3.5 to 4, it is quite soft and you can cut it with an ordinary knife, this makes the gemstone unsuitable for making jewelry.
Its beautiful shine and many colors make the stone so popular that you can buy it as tumbled gemstones, or as pendants. You should take special care of jewelry made of Chalcopyrite because it is easily scratched.
---
Name and etymology
The name Chalcopyrite comes from the Greek: Chalkos (Χαλκός) = Copper and Pyr (Πύρ) = Fire
Johann Friedrich Henckel, a doctor and mineralogist described the gemstone scientifically for the first time in 1725.
Synonyms: copper pyrite, geelkis, yellow pyrite and Pyrites Aureo Colore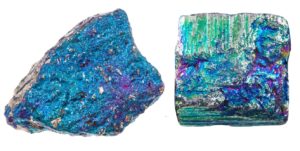 The Chemnitz physician, Georgius Agricola (1494-1555), considered the father of Mineralogy, had previously coined the collective term Chalcopyrite for the hard arsenic, sulfur and antimony metal sulfides.
Chalcopyrite color
Chalcopyrite is actually brass to gold, but with exposure it becomes colorful. Its insignia color is greenish-black to deep black.
Mineral class and group
Mineral class: sulfides and sulfosalts
Chemical formula: CuFeS2
Connection: 1 copper + 1 iron + 2 sulfur
Popular size and shape
As mentioned in the introduction, the Pyrite with a Mohs hardness of 3.5 to 4 is very soft, so it is not very suitable for jewelry. Because of its popularity it still sells as a tumbled stone and as a jewel. Typically cut round or oval in cabochon cut.





(No Ratings Yet)


Loading...