Amber has a special significance for scientists and archaeologists as it may contain parts of plants or insects that tell us stories from millions of years ago, like a kind of time capsule.
How did Amber get its name? And how valuable is it? Where can you find Amber? Below you will find detailed information about Amber and its meaning, properties, special features and much more.
The nature of Amber
Amber is a yellowish to orange fossil resin, that is petrified natural resin from ancient trees.
The oldest Amber found so far is approximately 310 million years old. This gemstone is thus from the resin of a tree from the Paleozoic Era.
Amber's special features
One of the special features of Amber is that it consists of organic substances. Every Amber was once the liquid sap of a tree, which then hardened and fossilized.
For this reason, it is not surprising that often various living creatures can be found in Amber.
Where can you find Amber?
More than 200 Amber sites are known in the world. The gemstone has been found on every continent except Antarctica.
The chances of finding Amber depend on the sea temperatures. If the water is cold, it has a higher density which brings the Amber to the surface. On warm summer days, however, the probability of finding Amber is low.
An onshore wind, which is especially typical during winter and autumn, is also advantageous.
Amber seekers have to be up early, as they will certainly not be the only ones on the beach on a cold windy day. It is best to search in the ocean wash areas, where seaweed, stones, and wood collect.
How to recognize Amber?
When searching for Amber it is important to distinguish real Amber gemstones from ordinary pebbles. The Amber gems washed up on German beaches were formed about 40 to 50 million years ago. These were once the resin of subtropical conifers.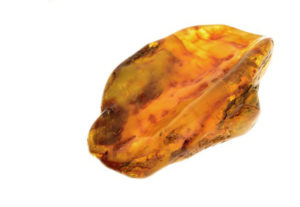 Consequently, a real Amber gem is comparatively light and typically sparkles in sunlight.
The gemstones that are washed ashore are untreated rough stones. These look somewhat cloudier, with darker coloring than cut pieces. The color is mostly honey yellow to brownish, but also reddish, light yellow or whitish shimmering models are typical.
Beware of phosphorus!
Caution! Dried phosphorus (white phosphorus) is often mistaken for Amber. Phosphorus is highly flammable and can cause serious burns.
When the substance comes in contact with water, very toxic phosphanes form. Phosphorus is highly toxic and can lead to severe poisoning at doses as low as 0.0005 oz. These toxic damages include serious ailments of the gastrointestinal tract, liver disorders with serious metabolic damage, as well as kidney damage and heart damage. In adults, a dose of about 0.0017 oz. results in death.
Phosphorus can self-ignite at room temperatures of 93.2°F and above – no direct exposure to heat is needed. The substance reacts with the oxygen in the air. Once it burns, it can reach temperatures of 2372°F and lead to severe burns. In addition, a phosphorus fire cannot be extinguished with water! If phosphorus ignites, you can use sand or extinguishing foam to douse the flame.
The danger of finding phosphorus instead of Amber is relatively high due to remaining World War 2 debris on Usedom and in the Baltic Sea. Peenemünde, for example, was a bombing target in the Army Research Center (experimental station for the research of new weapons).
So be very careful and don't just keep presumed Amber stones in your pocket!
Also, the following tips do not help to distinguish Amber from phosphorus because both materials have similar properties.
To minimize the risk, you can transport your collected stones in a preserving jar or bucket (preferably a metal bucket) filled with water.
Recognizing Amber – tips and tests
If you are not sure whether your stone is Amber or a conventional stone, the following tips can help:
Knocking on tooth: If you knock the stone lightly against your tooth, you can tell from the tone whether it is real Amber. With genuine Amber, you can hear a soft sound – any other stone , such as flint, the sound is much harder.
Placing in salt water: Another helpful method is to place your stone in very heavily- salted water. Real Amber, in contrast to plain stones, will float on the surface.
Rub on woolen cloth: Rubbing your stone with a woolen cloth can also help in recognition. For this, the suspected Amber should be dry. If it is real Amber, the gemstone is magnetized.
History and Origin
The Amber pine, also called pinus succinifera, according to research, is the tree responsible for the formation of Amber over millions of years. This tree is an extinct relative of our present-day conifers and was initially known as pinites succinifer.
New chemical investigations assume that plant species such as cedars, golden or silver fir trees are also trees of origin. Amber's origin is therefore still controversial.
The petrifaction, also called fossilization, is traced back to the earth's new age. In other words, Amber probably originated about 50 million years ago.
Usage and Features
Amber is a versatile gemstone with special properties. In former times it was not only used for jewelry and decorations, but also used as incense.
In addition, it has great significance for scientists and archaeologists, since the gem itself, as well as the parts of plants and animal fossils that are often found in it, provide information about a distant era.
You can find further information in the History of gemstones guide.
---