Petrified and colorful iridescent shells of an extinct marine life
Ammolite is a rare, iridescent mineral that consists of fossil shells or shells of Ammonites. Ammonites (Ammonoidea) are sea creatures (called Cephalopods), which died out over 60 million years ago.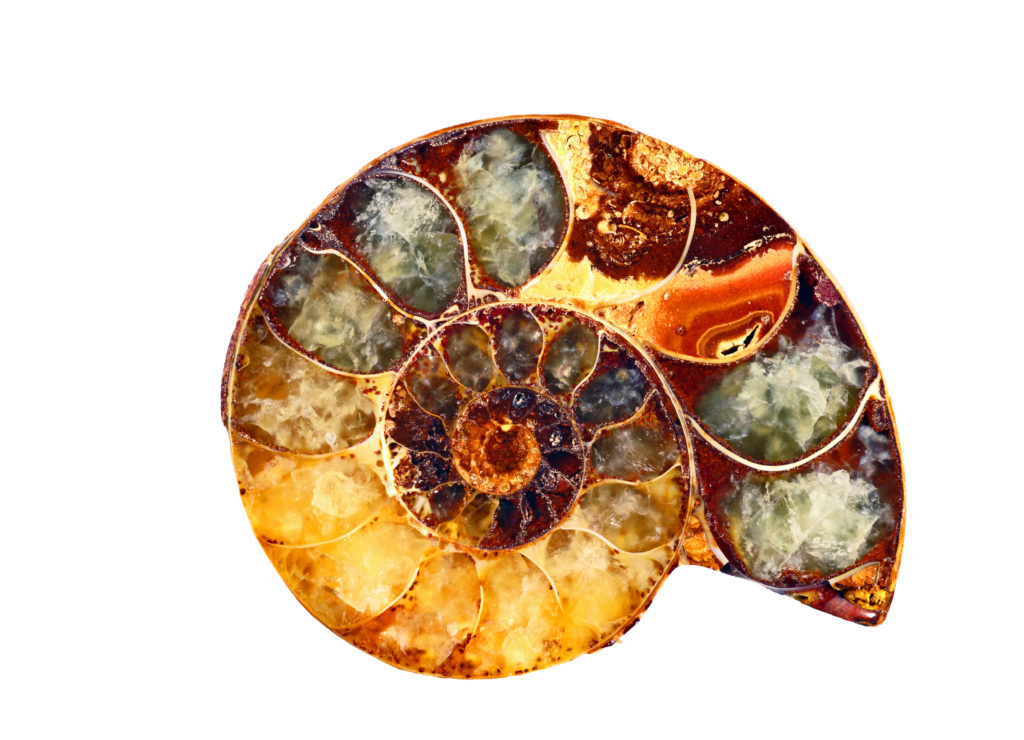 The Ammolite is an organic gemstone. Completely preserved Ammolites are extremely rare and very valuable. Usually only pieces of the shells remain. Craftsmen prefer a Cabochon Cut for such pieces, which they install on a support plate because they are very thin.
Completely preserved and fossilized Ammonites are quite common, though they are not opalescent.
But what is opalescence anyway? What types of Ammonites are there? Find answers to these and more questions below.
---
Ammonite varieties and use
Today, you can find the fossil shells or remnants of Ammonites in different forms and types.
Ammolites, which are opalescent fossil remains, are the most popular.
Ammolite – fossil Ammonites with opalescence
The shells of the Ammonites were originally Mother-of-pearl but formed into Aragonite over time. These rare finds show the color phenomena: iridescence or opalescence.
Iridescence is an optical effect of a surface appearing in different colors depending on the viewer's perspective, such as soap bubbles appear in full spectrum colors.
Opalescence is the shimmery appearance of materials that results from light refraction. As an example, blue light is shorter than red light and is more strongly refracted. For this reason, opalized substances seem more bluish in the case of lateral illumination and more reddish in the case of backlight.
Korite or Calcentine are other names for Ammolite.
Additionally, there are opalescent shell marbles available, like the famous Bleiberger shell marble.
---
Golden snails and Ammonite forms
Pyritized Ammonites also called gold snails are real treasures. Here you can buy Pyritized Ammonite.
(Learn more about Pyrites here)
Fossil Ammonites are skilfully processed by goldsmiths and jewelry manufacturers who shaped, polished, and then work them into jewelry and amulets.
In addition, jewelry that has the shape and appearance of Ammonites, though made from other material, is very popular.
---
Ammolite and Ammonite – origin, formation and sites
Nearly all Ammolite comes from the Rocky Mountains in North America. In the Cretaceous period, around 145 to 66 million years ago, a warm sea existed in this region, where the Ammonites lived. When Cephalopods died, their shells sank to the bottom of the sea and over time bentonite (clay) and also volcanic ash fossilized them. 
Some Ammonite evolved into Ammolite – those mollusks that did not sink and contained Aragonite formed Ammolite over time. Furthermore, during sedimentation magnesium and iron fused into the shells.
---